Happy Friday friends!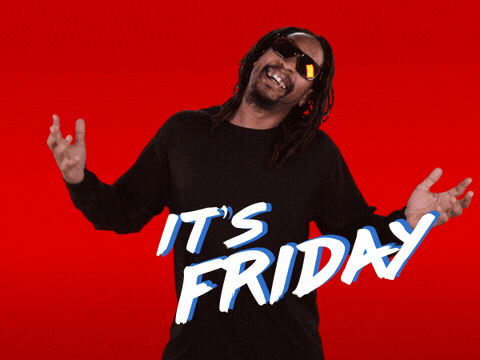 What a week. Well, what a month. Actually, what a start to 2022! So much going on these last few weeks, it has been craaaaaaaaaaazy.
A short and sweet one from me this week as I am heading away to spend the weekend in REHAB with friends.
WHAAAAAAAAAAAAT?!
One of my friends lives in Linthwaite, Huddersfield and it is the greenest, most beautiful place ever. Every time we go to stay there we all leave feeling so refreshed and calm. There is so much open space, the skies are so clear at night and it does us the world of good to just generally be out in the fresh air. Not to mention the endless benefits of spending a solid few days with beautiful friends, and that my friend's family are sooooo hospitable and we feel like we are literal royalty when we visit!
So I'm off there this evening, in fact – as you read this I will probably already be knee-deep in wine and cocktails! SO CHEERS HUNS!!!
Reading
This Wholesome Advice Thread
Look, I'm going to be honest. I'm TRYING to prioritize reading but it's just not happening at the minute. I did, however, spend a lot of time reading this thread recently and honestly, it was so refreshing to see women lifting each other up and supporting one another.
As someone with no kids, I'm not entirely sure how or why I follow this page, it's a woman who is local to me and I think I followed it once through my sister-in-law. I love the idea of forest schools though, and I find what she posts interesting, so I've just never unfollowed.
This thread honestly warmed my heart. I may have said it before but as I grow older and contemplate the possibility of one day having a child of my own, something that puts me off is when people only share the good stuff. This is great and all, but I want to see the REAL stuff. If everything is great for you, FANTASTIC, but you're probably not my person to learn from. I want to hear the reasons parents struggle and what they face etc. so aside from the endless value I found in this thread, I also got to see the most beautiful display of support. It was very wholesome.
If you're a parent, especially to a young child that is perhaps even your first, I think you'll take real value from this!
Watching
A passion for music is something that runs through the veins of my entire family. And when it comes to classical music and opera, it all stems from my wonderful Grandad, who absolutely adores anything and everything opera, culture, literature and so on. He is the most cultured, wise, and wonderful man I know and his passion for these things has been passed down through the entire family. I love that we get to share this between us.
At age 11, my Grandad went deaf and has, as a result, used hearing aids his entire life. As he gets older, even his hearing aids aren't so great anymore, but he is still able to listen to classical music and watch opera because he can "feel" it.
My favourite word on the planet has always been the Spanish word: duende. According to Wikipedia, it is "the spirit of evocation. It comes from inside as a physical/emotional response to art. It is what gives you chills, makes you smile or cry as a bodily reaction to an artistic performance that is particularly expressive." You can see why I love it so much.
This video of Rafael Rojas (RIP) singing in a shopping centre is, I think, a perfect encapsulation of both duende and also what my Grandad describes. It is absolutely magnificent and I can't watch it without being covered in goosebumps and becoming teary. It's just so beautiful.
ENJOY!
Listening
This is the theme tune to a show called Northern Rescue that I've started watching on Netflix, and I think it's so catchy and easy to listen to whilst being upbeat and feel-good. I really like it and I've found it a catchy little tune to just have playing for a bit of a boost during the day!
And speaking of feel-good CHECK OUT THIS BANGER!!! Listen to it RIGHT NOW and then tell me you're not dancing along. And if you say you're not – I don't believe you anyway! How can you not?! Cracking tune. Also, any song that reminds you to drink more water is only ever a good thing, right?
Before You Go…
That's it from me this week as it's now WAAAAY past wine o'clock.
But before I go, I've been thinking a lot lately about FUN. I've had a lot of fun these last few weeks and it feels like I actually spent a large portion of last year not really actively seeking fun. Sure, I responded to events and went away and so on, but I didn't actively make sure I implemented something fun into each day or even week. I think working both all week and weekends meant that a lot of opportunities for spontaneous fun were taken away.
So I'm encouraging you, dear reader, to do ONE thing this next week that brings fun to your life. I'm talking about something you wouldn't necessarily do otherwise because you're in the throws of just plodding along and getting on with life. Do something for YOU, something that brings you JOY. It can be as simple as giving yourself 10 minutes to have a bath. It only has to be one thing in the whole of the next 7 days.
And don't forget to share with me what you do, you know I love hearing from you!
Cheers! And I'll see you next week!