Happy period between Christmas and New Year where everybody has to question what day it is, whether they can truly stomach any more food, and whether they know anybody that DOESN'T have COVID right now. I truly don't know what day it is because I haven't been out of bed since Boxing Day afternoon!
I hope you've managed to enjoy some festivities in the last week or so, even if they have differed from what you may have been expecting. I had a wonderful Christmas Eve and Christmas Day with my family, I got to enjoy my mum's much-anticipated roast dinner (I adore my mum's cooking but especially roasts!) and a couple of bottles of delicious wine as well as some much-needed time with my family. COVID seemed to be slowly creeping in around me and so many people I knew were catching it, and all I wanted was to get home and enjoy Christmas Day. And I did, so I'm super grateful for that.
In the week leading up to Christmas and even the day of, friends and loved ones had plans cancelled and Christmas ruined because they were unable to see their families due to having COVID or needing to isolate. I have friends who even spent Christmas alone in hotel rooms because their families were sick or isolating, or they were. Christmas 2021 feels like it's been a bit of a trainwreck, doesn't it?
I was so grateful to only start feeling ill on Christmas night but I suspected straight away it was COVID. I woke up on Boxing Day feeling like both my throat and chest were on FIRE, did yet another lateral flow (I'd been doing them daily at this point) and of course, it was positive, confirmed by PCR results on Monday.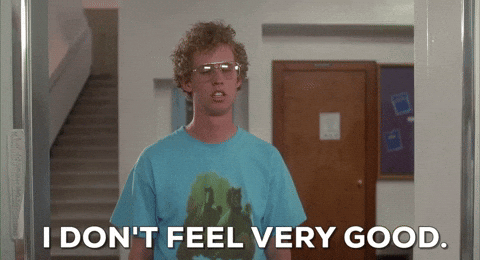 I honestly thought if I ever got The Rona again I'd be fine because the first time I had it (or think I did – see my account at The Corona Diaries Week 1: A Taste of Hell) was fairly manageable aside from the whole not being able to taste wine for a week – A WEEK! But in hindsight, after a few days of horrendous throat and chest pain and reminiscing on the sole other time in my life that I had felt this terrible (February 2020), I'm now thinking that what was diagnosed back then as a bad case of both viral and bacterial tonsilitis was, in fact, COVID, simply too early to diagnose. I was given 2 courses of antibiotics that barely touched the sides, and I was ill for almost a month. Having had chronic tonsilitis since a child I found this odd because antibiotics have always worked, but I just assumed that this was what happened if the case was described as a "bad" case as the doctor told me. After all, a sore throat wasn't a symptom of this brand new virus spreading around the world.
If you'd have told me that what I had for pretty much a whole month last Feb/March was indeed COVID, I wouldn't have been so blasé about getting it again. It has been extremely unpleasant to say the least and today is the first day I have felt remotely brighter. It feels incredible to only feel like I have a bad cough and cold right now and here's my public promise that I will NEVER moan about walking the dog 50 times a day EVER AGAIN. I can't even walk to the bathroom without losing my breath at the minute!
Anyway, moan over, what do I have for you this week?
Reading
Am I really claiming my "read" this week is one of MY OWN blog posts? Why yes, dear reader, yes I am.
I have done ZERO reading over Christmas, and have felt too ill to do pretty much anything these last few days, but I was reminiscing on the previous times I've written about having COVID and re-read this post from almost a year ago. Also, as I read back through the two posts I've mentioned so far, I have realised that I talk about wine A LOT. I never noticed that before! Have you noticed that?!
Watching
Home Alone
Home Alone is for life, not just for Christmas! I used to watch this absolute classic on repeat as a child all through the year, and I just assumed that everybody on the planet has seen it because it's so amazing. Then my sister dropped the bombshell on Christmas Day that she's never seen it (!!!!!!) and I honestly was left speechless.
I watched it on day 1 of being bedbound this week for the first time in ages and it gave me such joy. There are so many iconic quotes and scenes and really, it's such an iconic film! If you haven't seen it – WHY?!?!
I absolutely ADORE this film, I always have, and I always watch it in that period between Christmas and New Year. It is such a wonderful, feel-good, joyous New Year's film and I devour every minute of it. The clue's in the name as to what it's about, but it's got many storylines going on at once and it's got quite a star-studded cast, and it also isn't your typical cliché shit Christmas film or storyline. If you've never seen it, I would wholeheartedly recommend it!
Listening
There is one song that fills me with goosebumps and reduces me to tears upon simply hearing it, and it's this one (OK there are definitely many but you get the point!) I love this particular instrumental version (linked above) but I have also been listening to the one you might know from Sex in the City (listen here) recently.
New Year's Eve is my absolute favourite day of the year, and I just love being able to hear/sing along to this song at midnight. I feel a bit (OK – EXTREMELY!) sad this year because I was supposed to be going away tomorrow to spend it with my best friends in a beautiful Welsh cabin in the woods, but I'm still testing positive/needing to isolate and I'm still not well, so we've had to postpone.
I don't know what I'll be doing this New Year, technically if I test negative tomorrow and Friday I will be allowed out of isolation on Friday which would be just in time. But all I want to do is what I had planned, and I'm not sure I feel comfortable going out of isolation so soon in case it hasn't really gone, so I don't really know as of yet. I'll be making sure to listen to this song at midnight though, that's for sure!
Before You Go…
Christmas 2021 really has been so awful for so many people. If you are reading this and you have spent most/all of it alone, or it wasn't what you expected, or your plans changed last minute, or you were sick, or you didn't get to see your loved ones, or it was your first Christmas without a loved one, or you're still just in the depths of despair about the past two years, I'm thinking of you and sending you so much love. I hope your future Christmases are only brighter and happier from here on out.
We are soon in a New Year, and I know that many people will experience further pain here too. I'm sending you nothing but good wishes for health, wealth, and happiness in 2022 and wishing you a pain-free year ahead.
And to brighten your day a little, I thought I'd end with this beautiful, wholesome, joyful video because it actually made me cry. Enjoy!
Happy New Year dear reader, and I'll see you in 2022!